How to Engage Remote Workers
One of employers' biggest challenges during the abrupt shift to working from home is employee engagement.  How do you connect with employees when you're not face to face? How do you communicate company culture from afar? And a larger question - if we're finding success with the work from anywhere model, how do we connect with our people long-term, post-pandemic?
According to a Gallup study of 62,965 teams, cultures that thrive power companies through both the good and the bad.  It was found that productivity, customer service and profit experience minimal disruption.  The study found that two of the things that are essential are having the right materials to do the job and a connection to the mission of the organization.
Connecting With Employees
Of course we're emailing, Zooming, Slacking (heck, we're Facebooking, Trello-ing, texting too) - we're communicating, that's understood.  But by connecting we don't mean the project check in.  We're talking about those lunch room, talking over the cubicle, watercooler moments that are getting missed with the absence of common physical space.  How are you connecting with employees on a personal level?
Delivering experiences right to their doorstep is a good way to connect.  Did the work crew normally go out for happy hour? Schedule happy hour via Zoom & deliver it right to your people!  We're loving these margarita kits that come with everything you need to share in happy hour from home.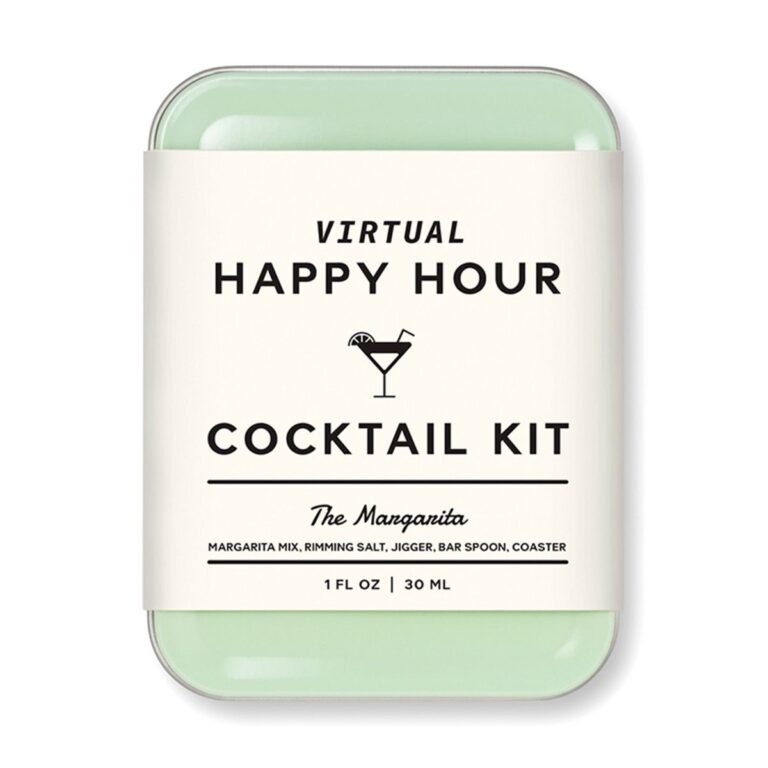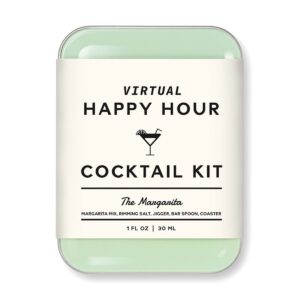 Surprising & delighting is our favorite way of using branded merchandise.  Hire a yoga instructor, have branded yoga mats delivered to each employee, and make your next Zoom a team yoga session. Surprising experiences paired with surprise gifts delivered to their door make a lasting memory of that connection every time that item is recalled or used in the future.
Whatever you dream up, make it personal to your company culture.  Consider making it personal for the receiver - handwritten notes or custom items with the individual's name included are all possible within our drop ship capabilities.
Onboarding Remote Employees
You may have even had the need to onboard & train a new employee mid-pandemic.  How are you indoctrinating your company culture from afar?
One way to go about the new employee onboarding is to make sure a branded merchandise kit arrives in time for their first day.  Everyone loves getting mail, and a box full of thoughtful company branded items gets employees excited about their first day.  Here's where quality over quantity comes in.  Thoughtful, intentional merchandise that helps instill company values from day one is the best kind of branded merchandise to receive.  An employee onboarding kit might include:
Fun packaging - a custom box, tissue paper with your branding
A tumbler or coffee mug
Something cozy to wear - one of our favorite super soft hoodies or t-shirts
A notebook or branded Rocketbook to keep track of all the things
A fun custom item that introduces your culture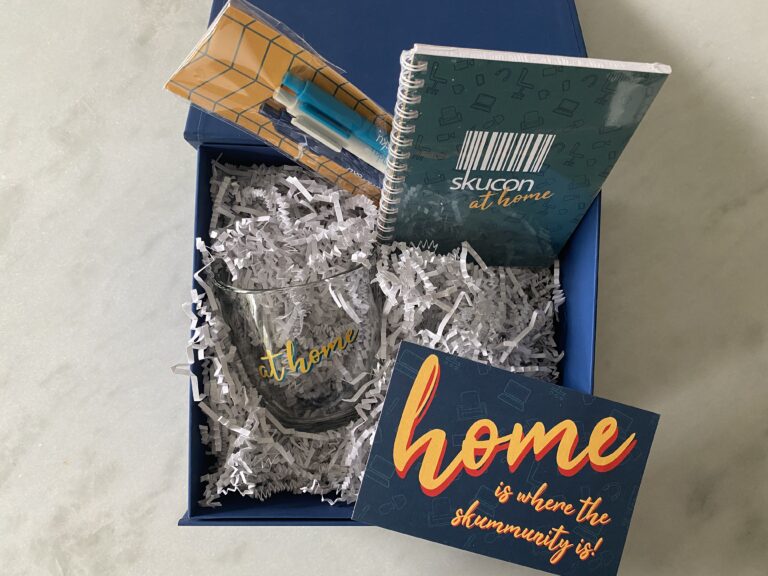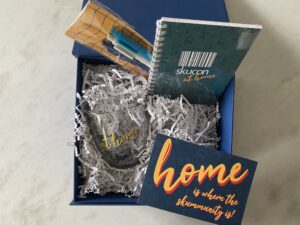 Think about your company values.  How can the design we decorate these items with support those values? How might we incorporate your company values in an onboarding box through the actual choice of the items included? For example, let's say "listening to our customers" is a core company value.  Wireless earbuds might be both a functional onboarding gift as well as a meaningful gift. That notebook we mentioned? Let's do an insert on the front page that introduces your company's culture and serves as a quick reference guide for values.
Employees should feel the excitement you have for them from day one, and while that's challenging remotely, a little thoughtful branded merchandise strategy for onboarding employees goes a long way.
Productivity Builders
With a remote workforce, you might find you have cost savings.  You've given up your office lease, supply budgets have a surplus - why not spend those dollars on furthering productivity for your people?
If this shift to practical supplies for your people interests you, you might consider branded items like the aforementioned Rocketbook or a pair of blue blockers.  Make quarterly surprises a remote workforce staple.  Give your team something they will be excited to use to help support the work they are doing for you.  With all the reliance on devices, a charging pad or connection cord is a helpful & necessary item.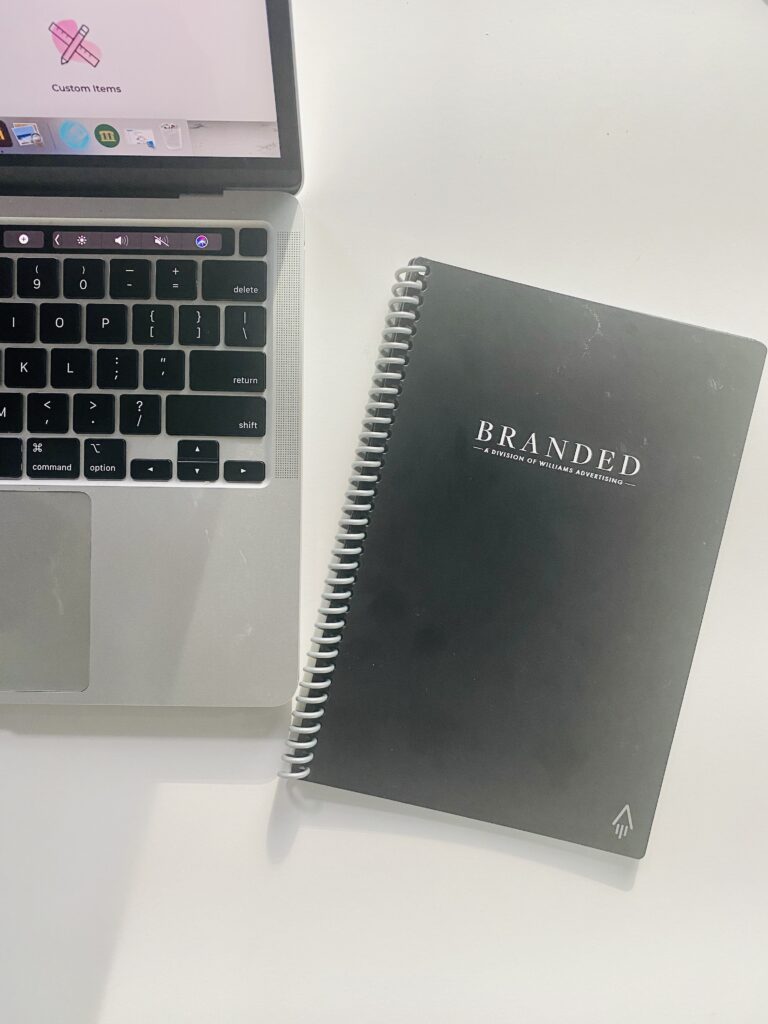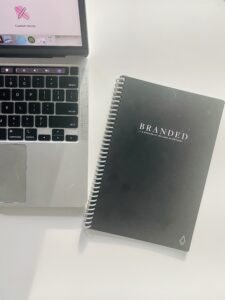 Remote workers have a shared experience among balancing life and work in a new way now.  The barking dogs, the need to assist with homework while doing work work, and sharing our cowork space (the kitchen table?) with a spouse and more are all things remote workers are balancing.  Anything you can do to make life easier for your employees is welcome.
Deliver the Fun 
Balancing school from home and work from home is one of the biggest challenges facing a remote workforce.  Believe me - as a mom who recently conducted a conference call while simultaneously being covered in Lion King stickers - I know.  My almost 4 year old has enjoyed seeing folks on the occasional Zoom meeting.  She's also gotten practical application for the numbers she's learning - your screenprinted t-shirt order may have been counted (and double checked by Mom ;)) by my little helper.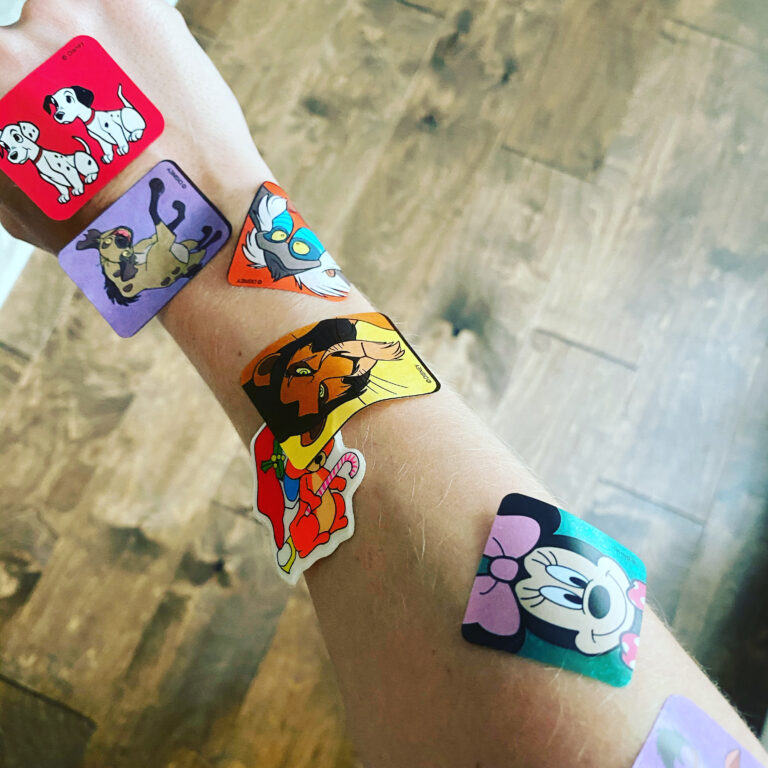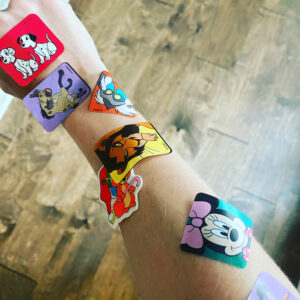 I believe connections are built over the shared realness of it all.  Business owners and HR professionals have to be secure in knowing you've got the right (awesome) people who are giving it their all.  Build on that.  Give the moms and dads something to help them further connect with their kids and build memories - without having to do the thought work behind it.  A tie dye kit mailed to the house (check out a cool design we just did for one of these), a smores kit for a fun night outside with family, a picnic basket filled with yummy goodies or a blanket & movie-on-us gift card go a long way to helping your work family connect with their family.  We handle everything from ideation to fulfillment when it comes to delivering memories to your employees' homes.  That includes drop shipping to any address with any of your promotional items and gifts.
Make it Happen - Intentionally
Above all, before deciding how to implement branded merchandise in to your employee engagement strategy (whether remote or not), define your purpose.  Let's talk goals and desired outcomes.  Then we tailor a branded merchandise strategy to fit with those goals.  That's where the magic happens - when we pair up our creativity to answer your challenges.   
Reach out to us at [email protected] to get started.
Schedule Your Branded Merchandise Strategy Session
Contact us to get started making your marketing spend more impactful.