3 New Ideas for 2023 Tradeshows
New ways to position yourself for growth at this year's events.
Hey notice we didn't say, 3 new ideas for promotional products for your tradeshow. That's because we're wanting to make a point. There's a larger concept here than just new ideas for promo items, and that point is that you need to make your investment matter. Your tradeshow marketing and sales growth strategy shouldn't consider promotional items as the freebie, the "stuff we all get" swag that is an afterthought. Your message, your booth theme, your show's theme even should be considered. Paramount to all? Your recipient, your ideal prospect, that existing customer.  We're saying you should consider this now, consider your entire 2023 approach, and see if you can make a better return on investment on your shows in 2023. And as for budgeting for your tradeshow giveaways? We're going to give some guidance on that too.
1. Define Your Goal
Are you attending the show because you want new leads? Is it a branding exercise? Is it in support of the show organizer or association? Maybe it's because if you're not there, it could do damage to your existing industry or client relationships. Could be that it's a new show for your company. Deciding to attend and exhibit at a tradeshow can be because of many different things.  What it definitely needs to do is have a return for your time, a return for your booth space cost, a return for the opportunity cost of being out on the road or back in the office.
Let's talk leads & sales. Let's assume you're attending the show to build new relationships, because ideally we all want new business, right? With so many booths packed in to schedules where it's a decision between running back to catch up on work or a quick break, you really owe it to those walking through the show floor and to yourself to create a memorable experience.  Could you do anything ahead of the show to entice stopping by? Do you have a pre-show mailing list you could use to do outreach?
One idea might be to do an inexpensive mailer that introduces what can be found at your booth - both in knowledge and in benefit to the attendee.  That might be an offer of a free demo of your product, it might be scheduling one-on-one's with account reps.  Here's an opportunity to take it off the page & connect with your new prospect.  Could there be an interactive element to your pre-show outreach? Have a message telling attendees to bring this card to the booth and exchange it for a special gift. What about affixing something to the card that leads to an action and larger opportunity in your booth? According to
the stats
, people will take action for a promotional item.  What we're suggesting is tailoring that opportunity to your recipient, and what will resonate with them the most & bring you the most (and best fit) traffic before the show even begins.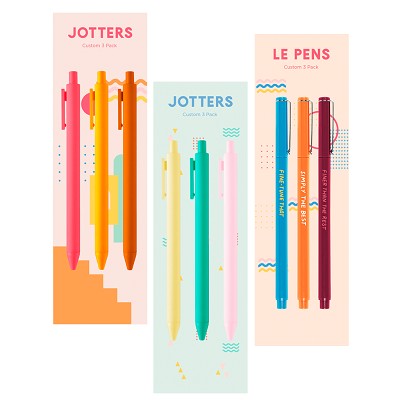 These branded pen packs are good for so many reasons. For pre-show purposes, it's really all about cost & function. With a full color front & back backer card, there is plenty of space to promote your company and your show attendance. For the recipient, it's a different way to outreach and it's giving them a great set of pens (which, by the way, come in 22 different colors, so we're sure to be able to print these on brand).
Another pre-show mailer idea would be this more traditional postcard mailer that includes a full color microfiber cloth - an item you can stow in your desk, purse, car, or home.  The catch on this one? It's going to need to be a memorable design.  Taking a full color cloth like this, you're able to very economically make a splash with the design and get attention ahead of your exhibit hall appearance.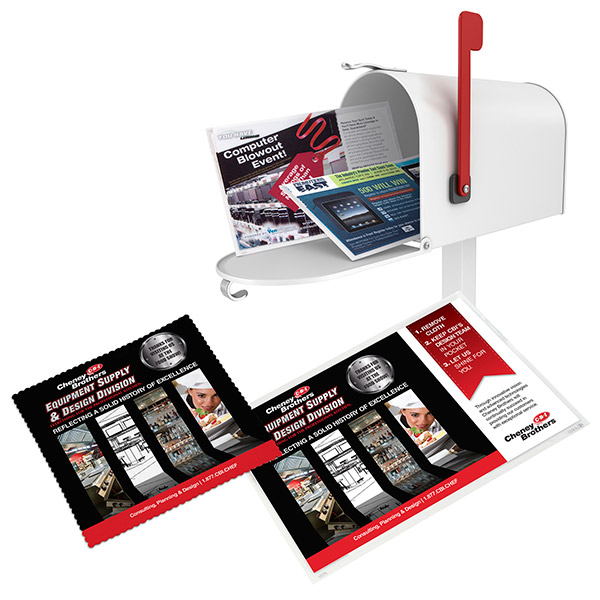 2. Stand out on the show floor.
Now is the time to think about what your tradeshow presence reflects. Is it on-brand? Does it quickly communicate what you do? Think pull-up banners with copy that reflects your prospects' needs, a backwall that looks like it's from 2023 and not 2003, and interactive tech as much as possible.
We've got in-house design if you don't, so we're full service when it comes to banners, tablecloths, backwalls & more to make your space look great. We'd love to take you through our virtual showroom for exhibit and display solutions, just schedule some time to check out some new options for 2023.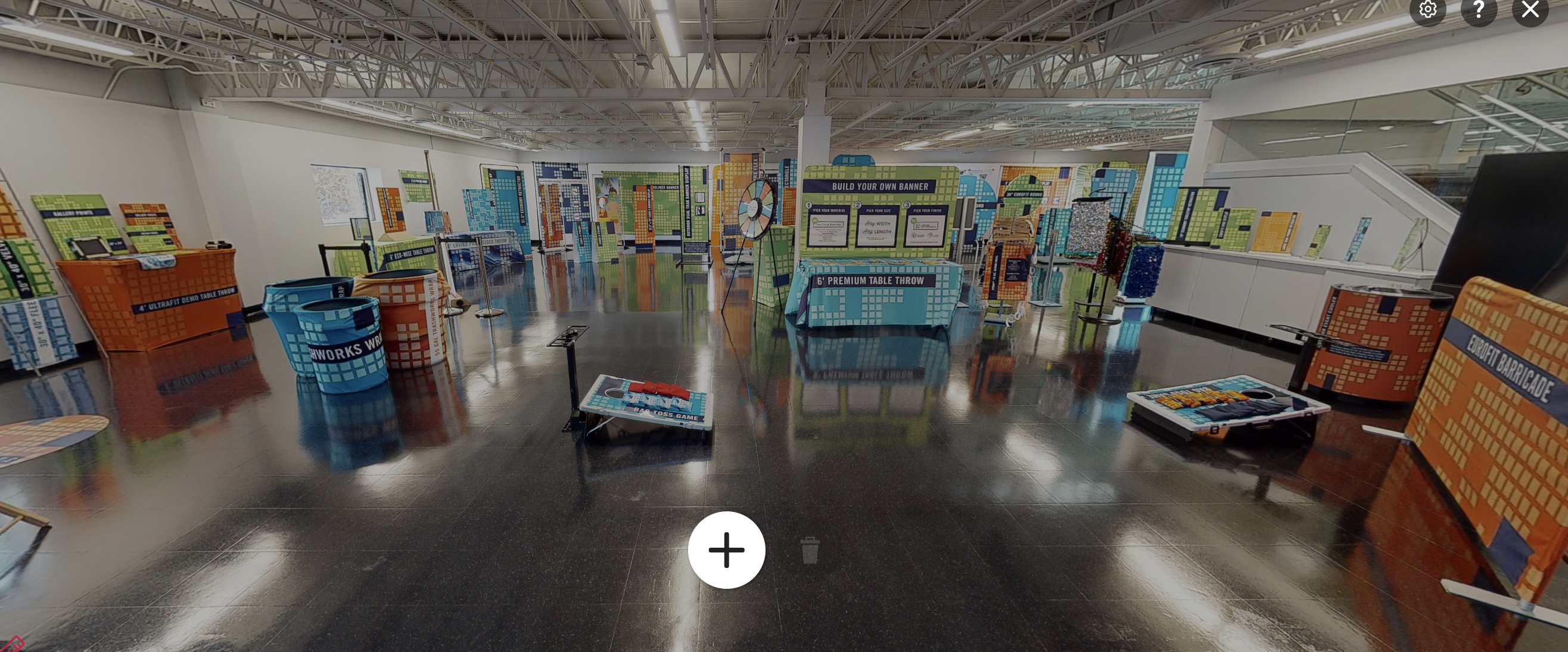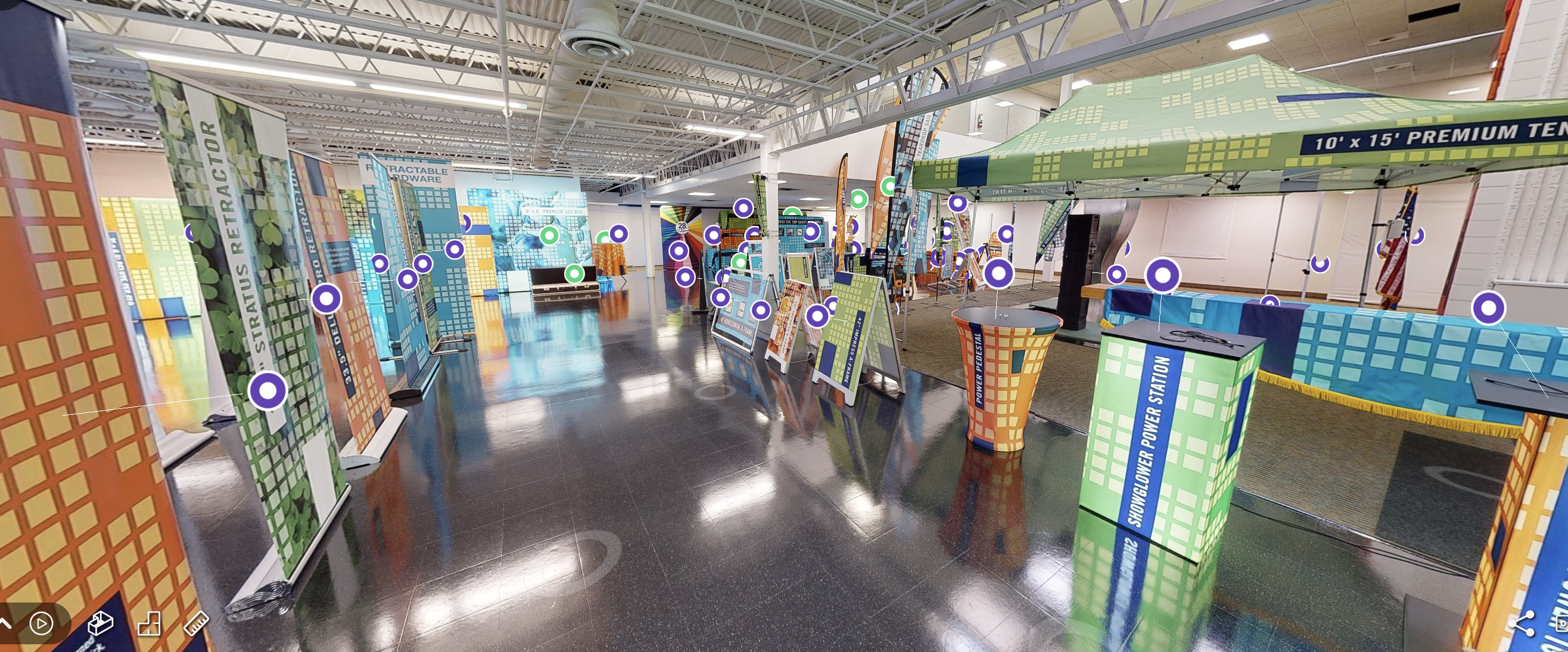 3. Buy fewer show giveaways.
What's that? The promotional products salespeople are telling me I should buy less? Yeah, we are. Sort of. We're suggesting you don't need the "one for all" approach with your branded merch - you need to make impressions on the people that count.  If it's a branding exercise and you need everyone at the show to know you, then reflect on what that looks like if you were to gift a cheap pen that has a one color logo that falls apart soon after first use or worse, gets left behind in the hotel room. Whatever the amount of money is that you spend, no matter how little, it's a waste if it doesn't get used. If a $0.50 branded pen doesn't get used, that's $0.50 that could have been put toward a more expensive item that does have a return.  Our suggestion is to approach everything about your show in a meaningful way, land on branded merchandise ideas that will make an impact, and then work backwards in to what makes sense for your budget and your ROI for making an impression on the right fit prospect.  Here are some specific ideas to show what we mean, and they're not ideas meant for all industries or business types, so reach out and let us make custom recommendations for the impressions you want to make at your next event.
First up, let's say you're in to providing security for your clients, you're a tech company, or you know your prospects are using their laptop often.  This tradeshow giveaway is on the less expensive side as tradeshow items go, but why we like it (if it's a fit for your company or your prospects - always that caveat!) is that you have full color branding capability on both the item itself and on the custom packaging.  PS: This is another great inexpensive pre-show mailer opportunity due to its weight. If you're in the business of providing security, it might be a good fit for communicating what you can provide your prospects.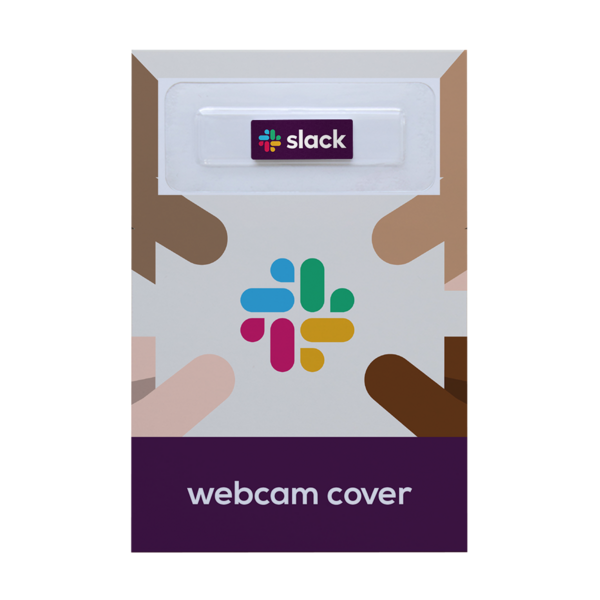 If we were making a post about some of our favorite items ever, this tote bag would be on the list. It's such a versatile item with the full color edge to edge printing (notice all these fun designs as examples!) AND it's super light weight & functional - especially for a tradeshow. This is the kind of item that gets you additional exposure because it's going to be walking around the show floor as individuals receive it & other literature and promotional items as they walk the floor. It's a great fit to stow in your car or in your purse in preparation for a grocery trip. It's also available in three sizes. While it is a show tote bag, what it also does is differentiates you from those that provide the standard non-woven with a one color imprint.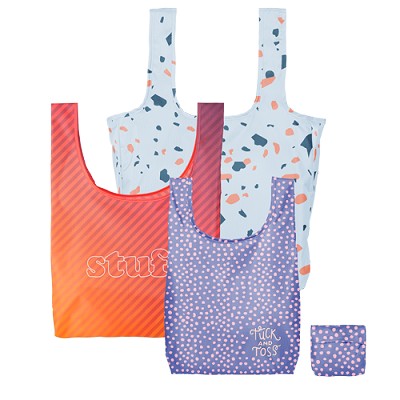 A great example of buying fewer items but making an impact on more people is a great tech item. This one we're choosing because we love it for conveying you're all about listening to your clients and your prospects and responding to their needs. What better way to make that memorable than a premium gift given to those that you determine are really qualified leads while visiting your booth? It's a functional item that has staying power, and it's a gift no one will forget who gave it to them. Also, notice a theme? We're in to the full color design capabilities so we can always focus on design & product aesthetic first, integrating your brand next.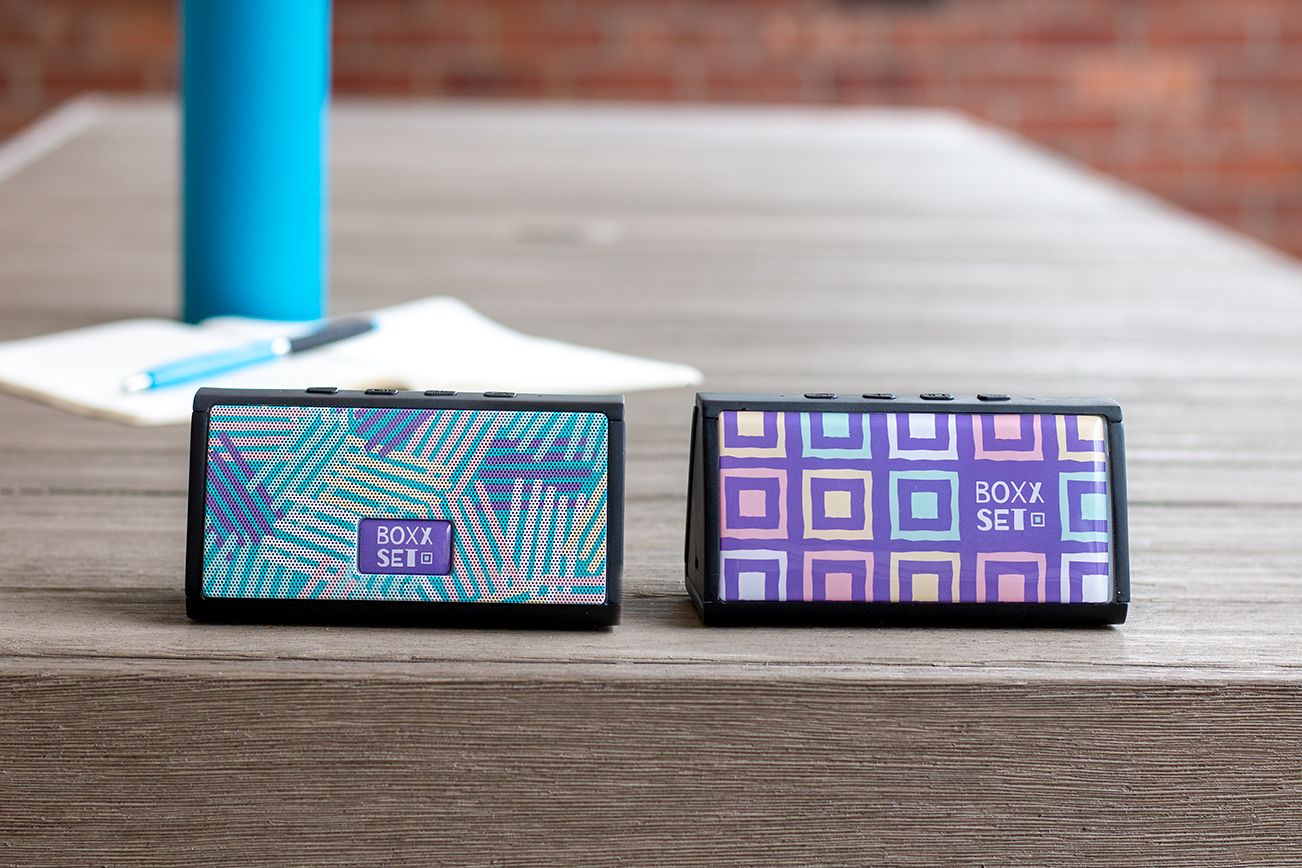 This is in no way a comprehensive list of suggestions, but just 3 elements you should consider as you think about your 2023 approach to event marketing and business growth.  We have a
branded merchandise strategy worksheet
that will help you get started.
Schedule Your Branded Merchandise Strategy Session
Contact us to get started making your marketing spend more impactful.