When you decide to offer corporate apparel, it can be a task if you're not armed with the proper tools.  Ever walked up and down the halls of your office with paper order forms? Or maybe you've sent an email, then you've tried to keep up with various replies only to result in the compilation of orders one by one into a spreadsheet with a prayer no one's order was left behind? Whew! At some point in their career, every marketing, human resources or business owner has dealt with this.
With Branded online company stores, our goal is to make your life easy. A Branded online store will completely take order management off your list - no more guessing sizes, reconciling paper forms or chasing down payments. No more questions about color availability or leaving branding choices up to decision-makers at multiple locations. And your employees? They'll get a super easy online store to use just like everyone is used to.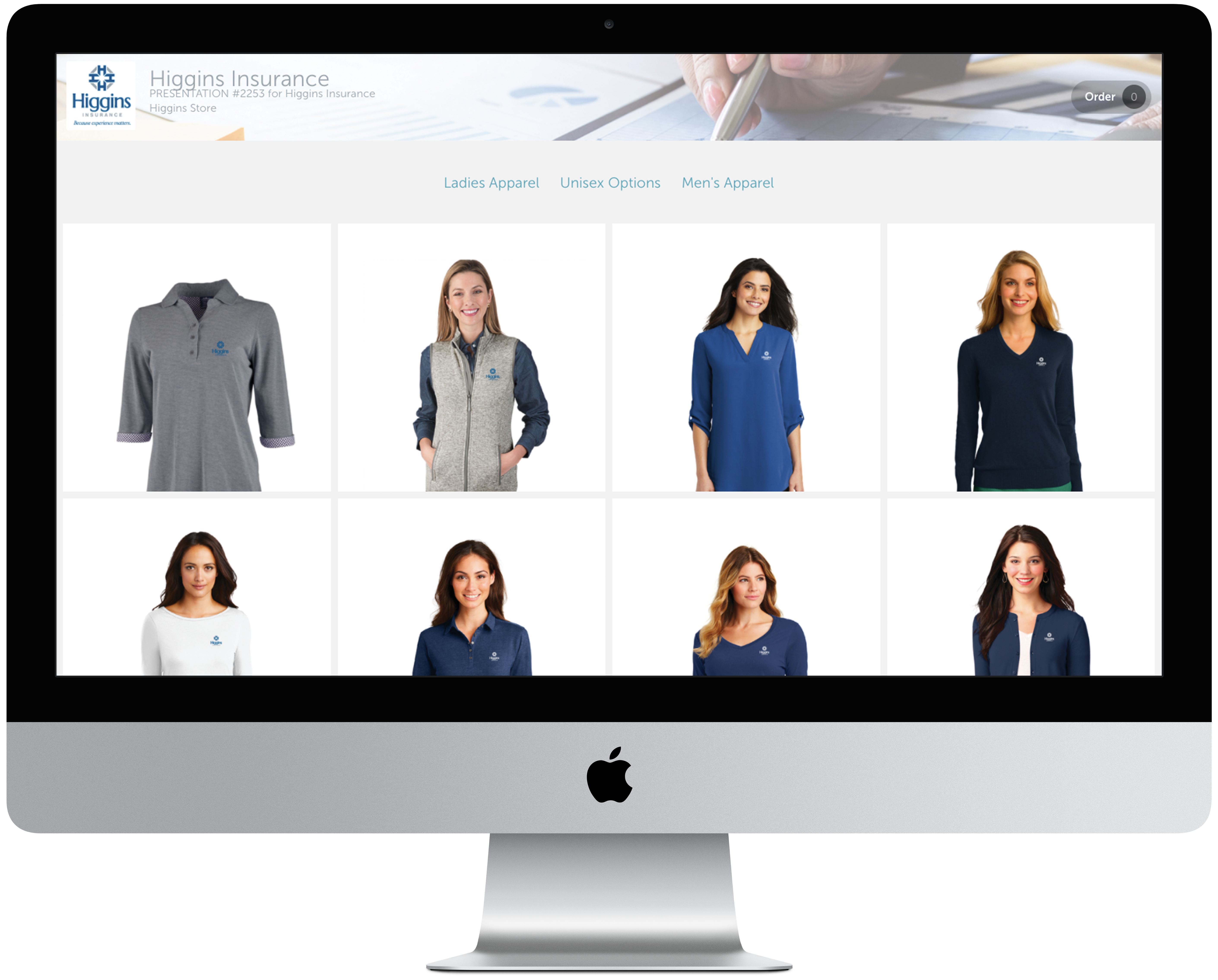 Offering branded apparel is a great way to identify your employees, sure, but creating a store full of on-brand, quality apparel is a great way to help build community culture and market your company too.
Depending on your needs, we have different types of shop we create. Ongoing stores are great to keep open all year round. Hired a new employee? Awesome! Just head to the store to grab them some team swag they'll love. Have an event that you want t-shirts and other fun branded items for? That's what the pop-up is for! Is your corporate marketing team centralized, but different buyers are at multiple locations? Let's streamline and maintain brand consistency by setting up a multi-location store.
We will work together to curate the perfect selection of branded merchandise for your specific need and type of online store.  Once we land on your favorites, from there, we will provide pricing, mock ups, and everything else in between. Once you say it's good to go, we will launch the store!
With a store build out, we create and load imagery for the awesome products you have decided on.  After adding photography, we load pricing and set shipping & pick up parameters. We will even market the store on your behalf to let your people know what you're offering them. Do you want to provide a certain item or dollar amount at no charge to your online shoppers? We've got you covered.  Once launched, we completely manage the store. We will receive & process the orders, send order confirmations and accept payments (where applicable).  We can also single-invoice everything if you're accumulating orders your company is purchasing on behalf of your team. Then we produce the beautiful products that you and your team will love! 
An exciting component of an individual-paid store is the ability to offer coupons & discounts. Offer rewards in the form of dollar amounts off their purchase, or make it percentage-based. We even have the ability to offer individuals a certain reward as part of an incentive program, as a subset of the larger ongoing store. We can do all the coupons you may need.  We can lock down the ability of coupons by individual or by domain - you make the call. 
When it comes time for payment, payroll deductions, individual checks and even cash payments made by employees for their order can become a thing of the past when you implement Branded online stores. We can set up the Branded store so that the company is billed for the entire order, or individual orders can be paid by credit card. 
What are you waiting for?! Let's make some awesome corporate merch AND make your life easier! Reach out to us at [email protected] to get started.
Branded online stores are a great way to offer merchandise to employees.  Branded online stores are also something the most savvy of companies use to increase attendance at events, show sponsors extra love, or thank attendees for visiting their tradeshow or conference.  These same savvy companies let their sales incentives programs be by choice, powering incentives with an online store.  Corporate marketing departments trying to streamline multi-location buying decisions can also use Branded online stores to ensure marketing standards are upheld when ordering promotional products and corporate apparel.
Take a look at these examples of how you might use shops for your company's growth.
Want to offer employees company apparel? You're in the right shop! Whether you're looking for a seasonal solution or a year-round store, this online company store allows you to choose what branded apparel your people will wear, and then they can order it at their convenience! We offer solutions for company-hosted or employee-paid stores.  Want to offer a reward or subsidized purchase to employees? Ask us about coupons and special offers! See how Savvy Co. uses a Branded online store to keep their brand consistent among multiple buyers and locations.
Maintain brand standards (and individual P&L's) by offering bulk product orders for all of your locations. See how Savvy Co. uses a Branded online store to keep their brand consistent among multiple buyers and locations.
Surprise your recipients with a personalized gift. By letting them choose what type of gift they might like by their personality, you still get to surprise them, but you're gifting something you know they'll love!