Solution Spotlight: Branded Badge Program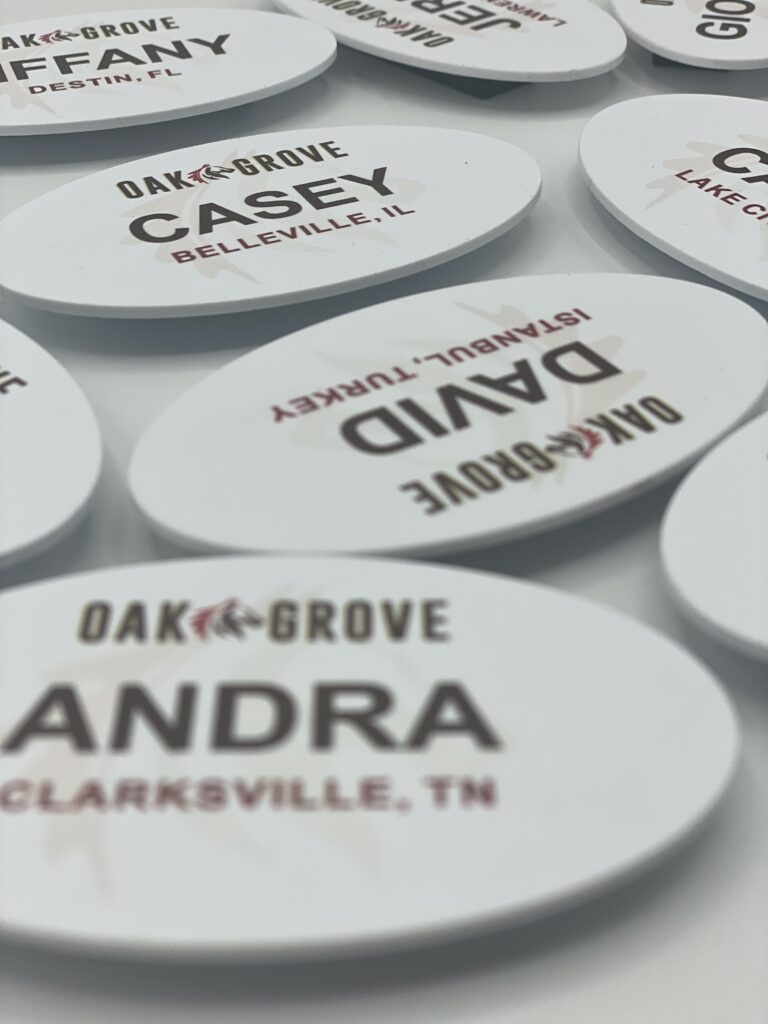 You have a whole checklist of things to do when onboarding employees. Office tours, training schedules, observations, filling out form after form.  But let's back up a minute to that moment when you get the "I accept".  There is a lot of work that goes in before an employee even begins their first day.  If employee badges and identification cards are one of your first orders of business with a new hire, we have an easy solution to reduce your time spent in that endeavor.
Today you may be calling someone for a single badge, emailing a list to someone for a group of new hires, or even printing badge inserts or temporary badges for new employees while you await your badge printing.
Our solution spotlight on our badge program aims to introduce you to a quick, easy way to not only save time on your employee badges, but also introduces a way to save money on this new hire expense.  It also gives you a solution for a completely custom designed solution for badges (goodbye generic badges, hello custom!).
When you rebrand or order new badges for your entire company, you realize cost savings by ordering in bulk.  When you hire new employees, you don't always hire in multiples.  As a result, you often enjoy a quantity discount on your whole company badge order one time, and then you're hit with higher costs on remaining badge orders.  Not to mention, you're back ordering, proofing, requesting PO's, reconciling charges, etc. for a single badge.
With employee badges being important for both branding and security, we know time is of the essence when it comes to badge fulfillment.
The Branded badge program allows you to:
Say goodbye to generic badges! Get completely custom (designed & on-brand) badges
Order any style badge (plastic, metal, reusable, specialty)
Add features like photos, security access, chalkboard, dry erase, and more.
Save money with bulk quantity discounts
Save on setup fees - there aren't any!
Only receive the badges you need now
Order additional badges as you need from one convenient online portal 24/7
Remove purchase tasks like PO's & invoicing
Here's how it works.  We design a completely custom badge for you.  Let's say you need 100 badges now, but you know you'll hire additional employees in the future.  You decide to have us print 150 badges total, but only send you the 100 you need with their individual names printed on them right now.  We store the remaining 50.  When you're ready, you just visit our online portal to request additional badges and we print! No additional invoicing needed - you've paid for these badges (at the 150 piece pricing versus 1 piece pricing!) when you first requested your initial order.  We just hang on to them until you're ready to name those new employees!
You order the badges from us one time, getting that bulk discount, and we send you the ones you request within 24-72 hours after your request online.  Do you onboard your employees at certain intervals, or have hiring groups? We have an easy to use Excel file upload feature that allows you to upload your new hire names and any other variable data we should print, and we go to print from there.
It is our goal to bring you solutions for all things custom, and this is just one of many things we offer in the branded merchandise space to help our clients! Reach out to us at [email protected] for a demo and to learn more about our employee badge printing programs!
We offer the following types of badges in our Branded badge program:
Plastic badges

Full color badges
Printed badges
Engraved badges
Oval badges

Metal badges

Thick alumninum badges
Thin aluminum badges
Brass badges

Reusable badges

Blackboard badges
Whiteboard badges
Window badges
Write on tags

Specialty badges

Wood badges
Leather badges
Framed badges
Domed badges

Blank badges
Desk & wall plates
And more!